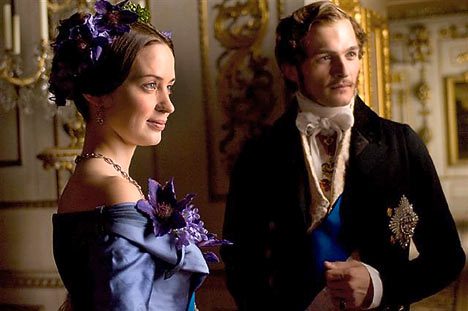 Everyone knows that certain kind of
girl
movie (long-suffering boyfriends and husbands especially): the ones full of British accents, lavish dresses, gorgeous scenery, and perfect period details. I love this kind of film as much as the next lady (Emma Thompson's
Sense & Sensibility
remains one of my favorite movies ever), but I must admit, I'd gotten a bit tired of them lately. The last few I'd seen seemed to lack heart, and without that they were just...well, just
pretty
, and not much else.
Young Victoria
had it all. It was indeed visually lovely, but the romance between the queen and Prince Albert was such a real, sweetly enduring love story that I've found myself thinking about it often over the last few days. While Emily Blunt was beautiful and regal, it was Rupert Friend who made the movie for me--more than just a pretty face, the quiet strength he displayed as he supported and encouraged his powerful wife was marvelous to see.
Also, I dorkily only put two and two together at the end of the movie, but of course Britain's Victoria & Albert museum (possibly my favorite museum in England) is named after this couple. For some reason, that makes me like both the museum and the movie even more.